a project by Franck Miltgen
in collaboration with the Luxembourg
National Museum of Natural History
---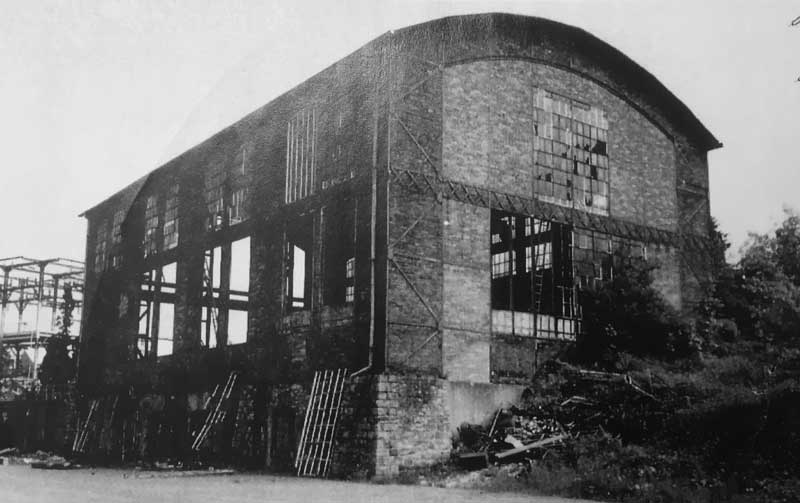 ---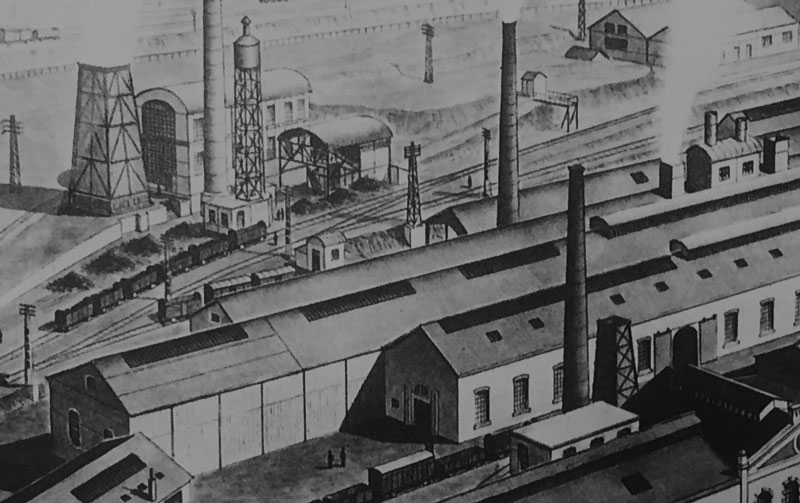 ---
The Wäiss Kaul project is not only a project about form reproduction but it is also about displacement. Here the history of the building reflects aspects such as industrial modernity, migration and the post-industrial era.
The former Paul Würth power station dates from 1913 and was part of the Luxembourg-Hollerich factory (Paul Würth is the name of the company that built the power station). It was dismantled and transferred to the Fond-de-Gras in 1988.
The concrete sculpture's formwork is transformed into a new shape, calling to mind an island or a temple. With An Island in Differdange the new structure offers a scenography for a selection of local fossil discoveries.
---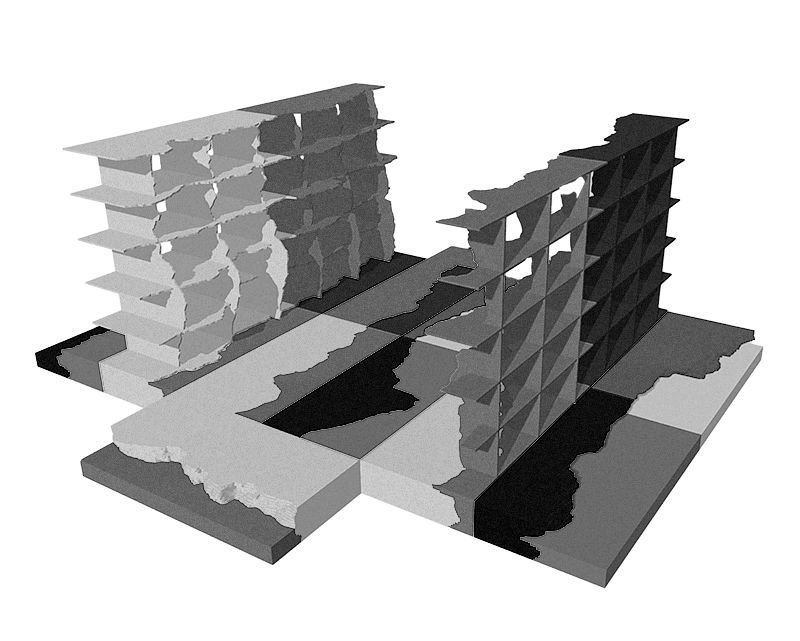 Le projet Wäiss Kaul n'est pas seulement un projet sur la reproduction de la forme mais il est aussi sur le déplacement. Ici, l'histoire du bâtiment reflète des aspects tels que la modernité industrielle, la migration et l'ère post-industrielle.
L'ancienne centrale électrique Paul Würth date de 1913 et faisait partie de l'usine de Luxembourg-Hollerich (Paul Würth est le nom de l'entreprise qui a construit la centrale électrique). Elle a été démantelée et transférée au Fond-de-Gras en 1988.
Le coffrage de la sculpture en béton est transformé en une nouvelle forme, évoquant une île ou un temple. Avec Une île à Differdange, la nouvelle structure offre une scénographie pour une sélection de découvertes de fossiles locaux.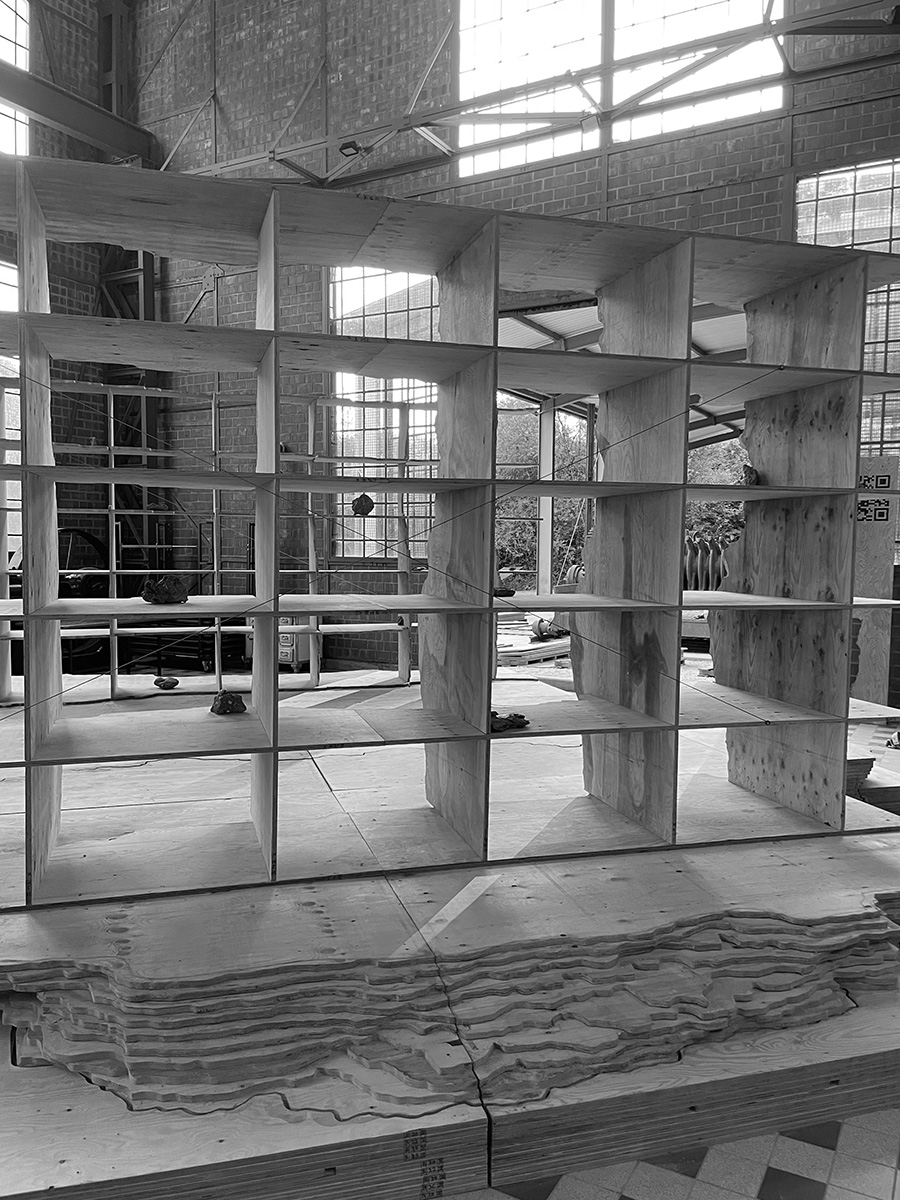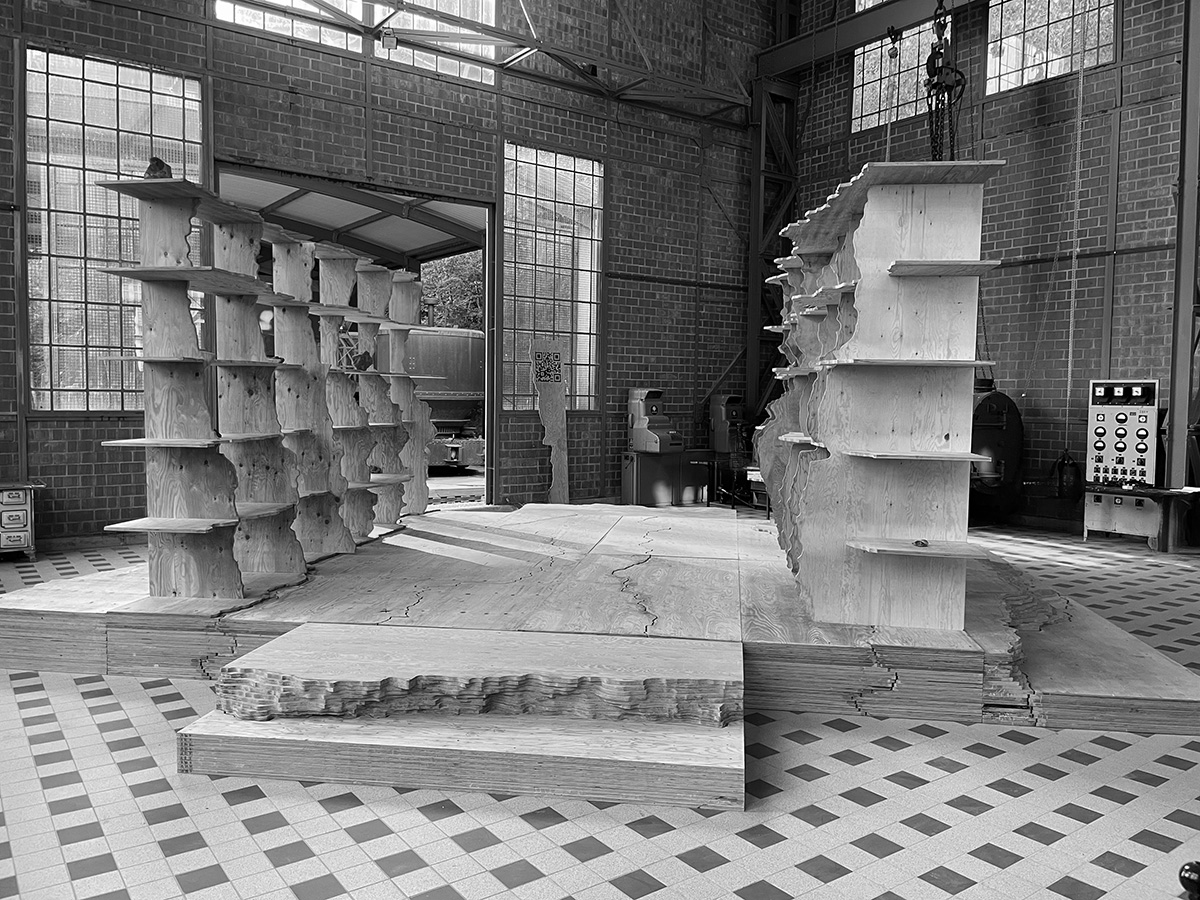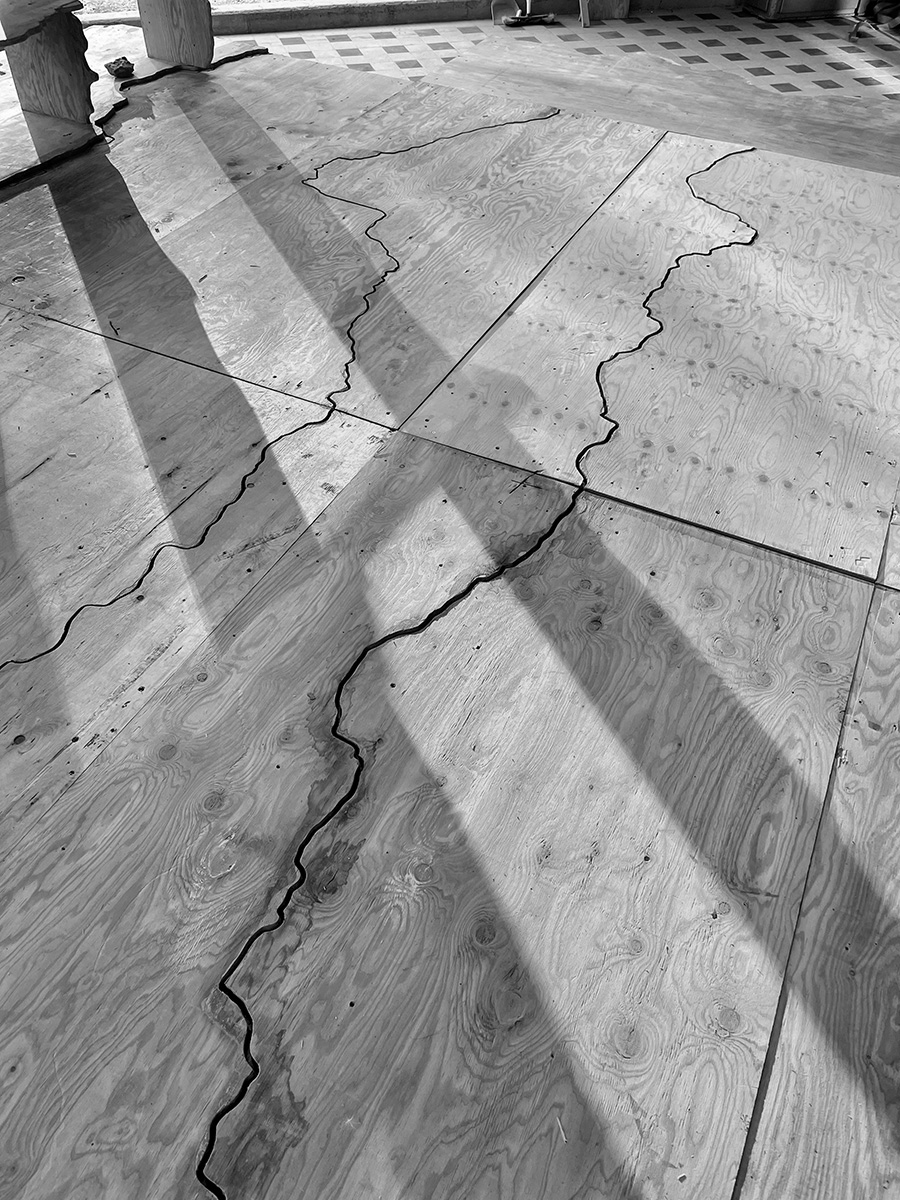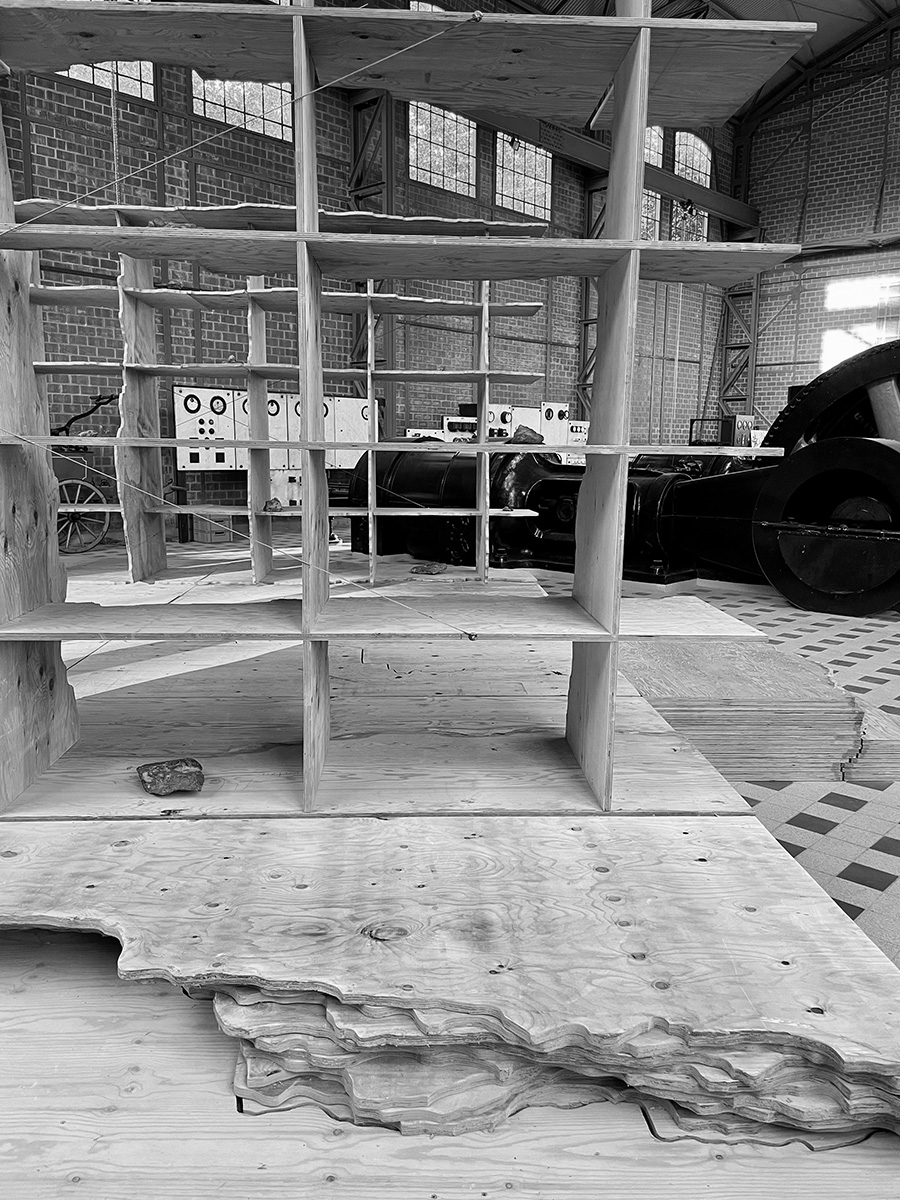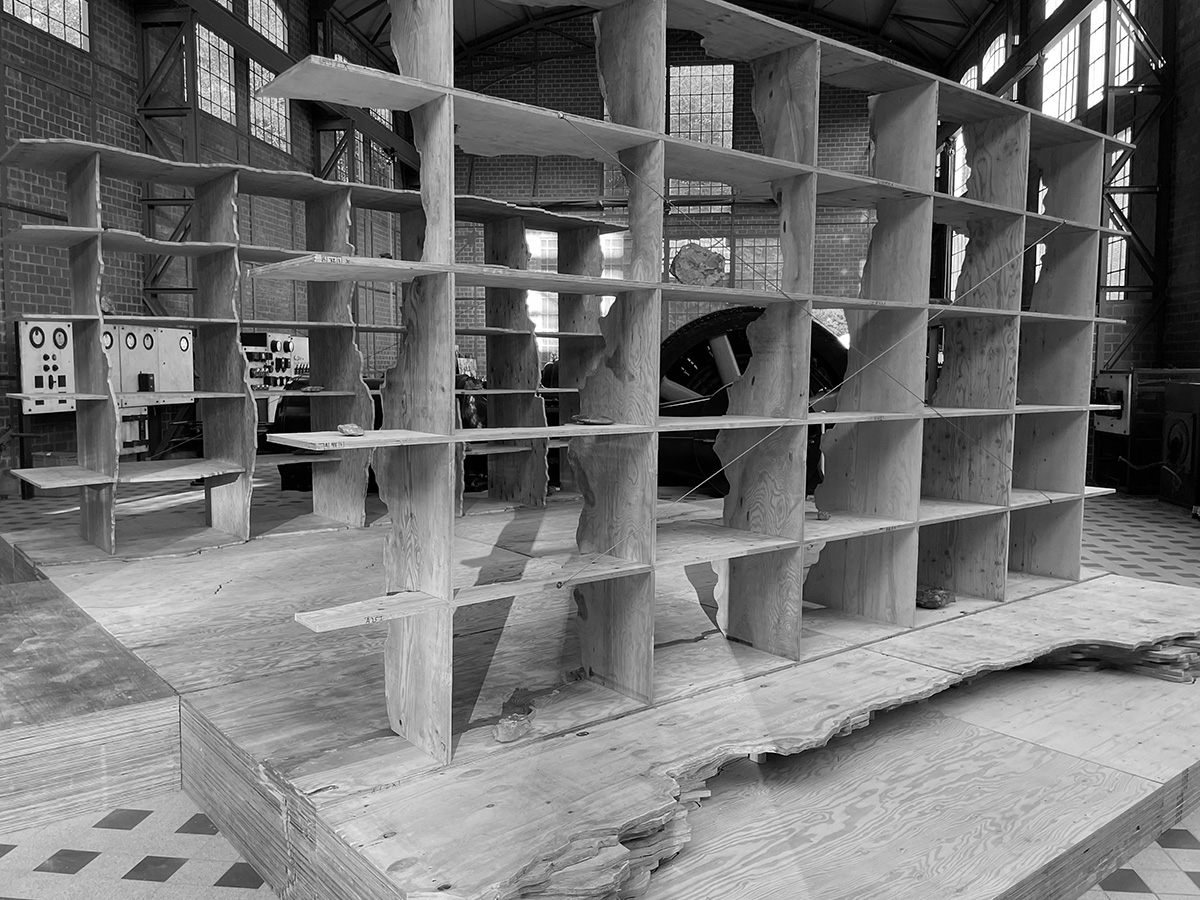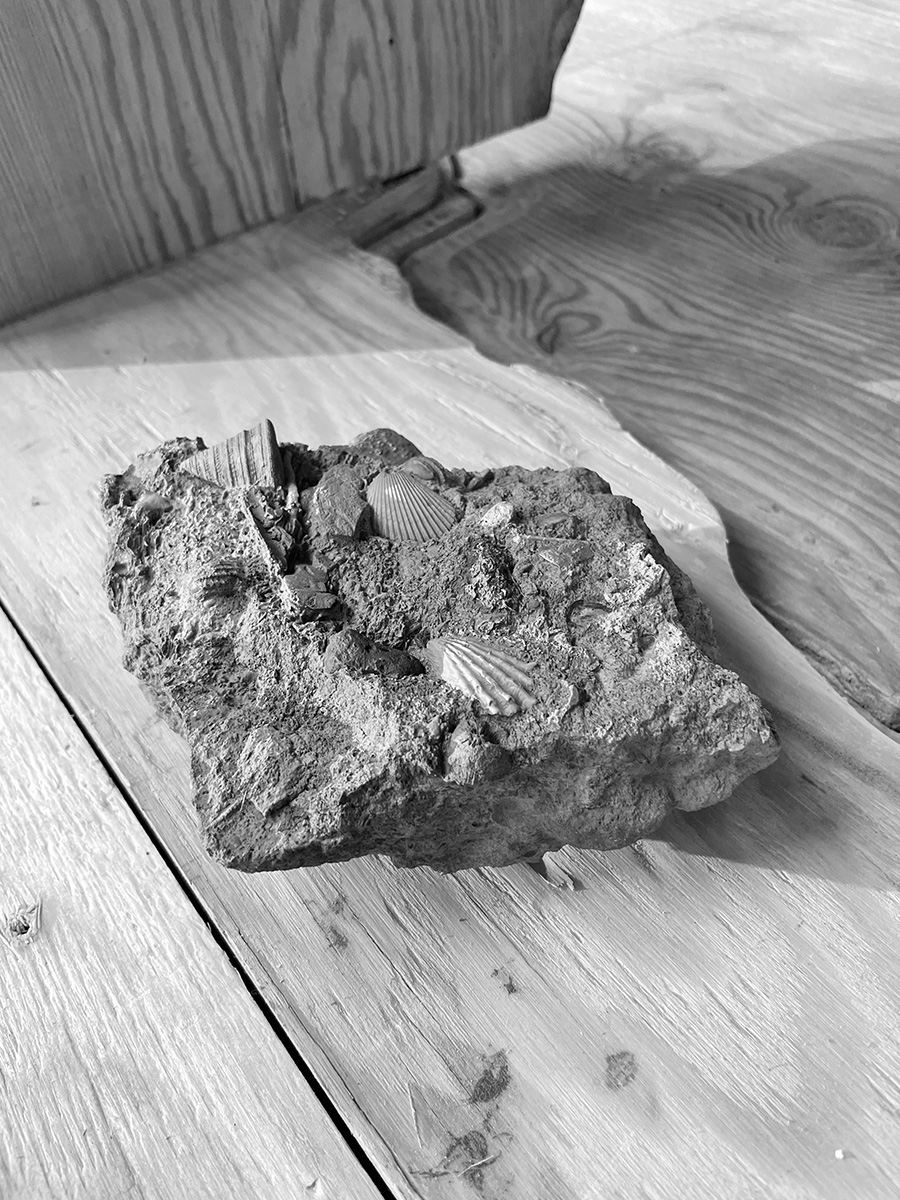 ZS284: COMPLEXASTREA ZOLLERIANA
A coral that built no reef / un corail qui ne construisait pas de récif / Eine Koralle, die kein Riff bildete
RB191 : HYPERLIOCERAS DISCITES
An extinct, spiral-shelled cephalopod called ammonite / Un céphalopode éteint à coquille enroulée appelé ammonite / Ein ausgestorbener Kopffüßer mit aufgerollter Schale, Ammonit genannt
ZS360 : GALEROPYGUS SUBLAEVIS
Two sea-urchins that roamed the sand plains / deux oursins qui fouissaient les plaines de sable / zwei Seeigel, die die Sandflächen durchwühlten
RB004 : PLEUROTOMARIA BAUGIERI
An extinct snail within a shell bed / un gastéropode éteint dans une lumachelle / eine ausgestorbene Schnecke in einer Schilllage
ZS183: ENTOLIUM DISCITES
A scallop-like sea shell / un bivalve pectinidé / Eine Kammmuschel
---
Hall Paul Würth Minett Park Fond de Gras
2, Fond-de-Gras
L-4576 Niederkorn
---
---
a project by Franck Miltgen in collaboration with Serge Ecker
and the Luxembourg National Museum of Natural History
---
As Luxembourg frantically builds its future, artists Franck Miltgen and Serge Ecker take an interest in construction culture by taking over the former bunker in the Esch-Schifflange industrial site's Bâtiment 4 building. The Escher Shells II exhibition follows the Wäiss Kaul project which deployed throughout the year and took its starting point in the construction of the A Local Coral Reef sculpture at the Nature and Forests Centre, Ellergronn in Esch-Alzette.
The intervention takes place in the two accessible parts of the bunker. Plunged into darkness, the visual absence of the walls in the tunnel, then reveals its spatial presence and the reinforced concrete material that gives it its shape. The device, which in its center shows a small sculpture made in 3d print
3d —the scaling of the volume the object is located—is conceived as a sensory experience and puts us in an external position, a perspective outside the space where we find ourselves, therefore outside of ourselves. This is the perspective on the material of concrete, which the Wäiss Kaul project offers us.
Concrete is a material, which symbolically is strongly linked to the city, to the modernity of the built space where it expresses order, strength and power. It is today a systemic material, which when associated with sand, constitutes a limited resource, emitting large quantities of carbon.
In the vault room, a holographic projection shows us fossils found near the bunker. Invoking the long time and the hollow form, inside which living matter has frozen in time. The fossil defies time by
becoming mineral. Conversely, the holographic medium is at the frontier of materiality, as close as possible to its disappearance.
Thus, Escher Shells II inscribes the fragility of the body in an architecture that is meant to be an
expression of permanence and thereby adds a chapter to the Wäiss Kaul's portrait of our construction culture.
---
Alors que le Luxembourg construit frénétiquement son avenir, les artistes Franck Miltgen et Serge Ecker s'intéressent à la culture du bâti en investissant l'ancien bunker du Batiment 4. L'exposition Escher Shells II fait ainsi suite au projet Wäiss Kaul qui s'est déployé tout au long de l'année et a pris son point de départ dans la construction de la sculpture A Local Coral Reef au Centre nature et forêts, Ellergronn à Esch-Alzette.
L'intervention se déploie dans les deux parties accessibles du bunker. L'absence visuelle des murs, dans le tunnel plongé dans l'obscurité, révèle alors sa présence spatiale et la matière qui lui donne forme, le béton armé.
Le dispositif, qui en son centre montre une petite sculpture réalisée en impression 3d — la mise à l'échelle du volume dans laquelle l'objet se trouve — est conçu en tant qu'expérience sensorielle et nous met en position extérieure, une perspective en dehors de l'espace où l'on se trouve, donc en dehors de nous même. Il s'agit là de la perspective adoptée sur la matière du béton, que le projet Wäiss Kaul nous propose.
Le béton est un matériau, qui symboliquement est fortement lié à la ville, à la modernité de l'espace bâti où il exprime ordre, force et pouvoir. Il s'agit aujourd'hui d'un matériau systémique, qui lorsqu'il est associé au sable, constitue une ressource limitée, émettrice de grandes quantités de carbone. Dans la salle des coffres une projection holographique nous montre des fossiles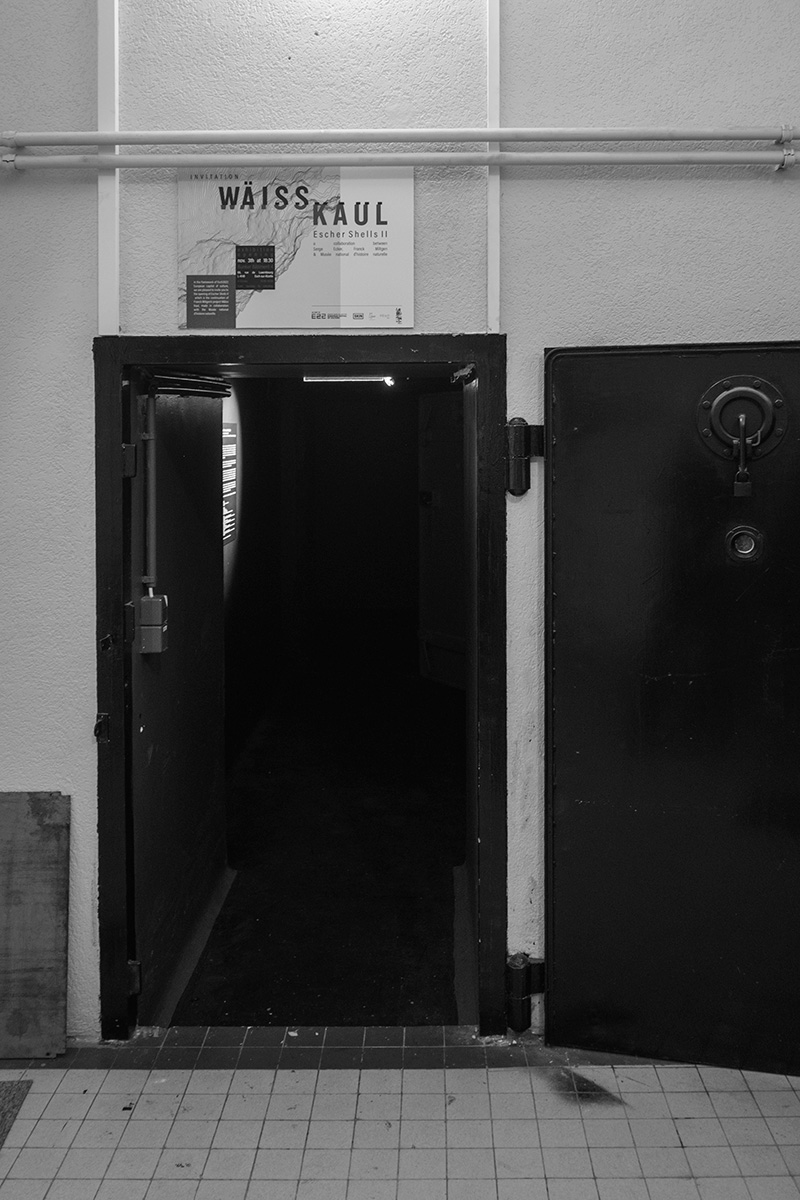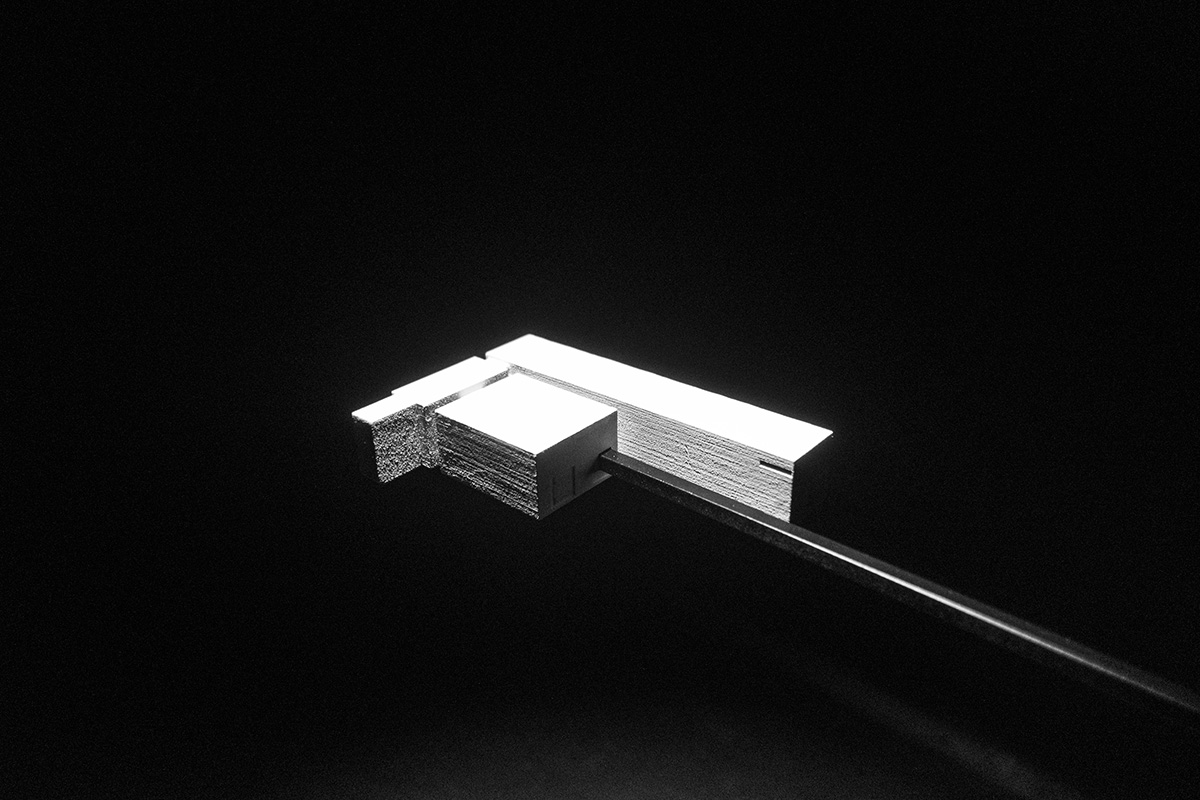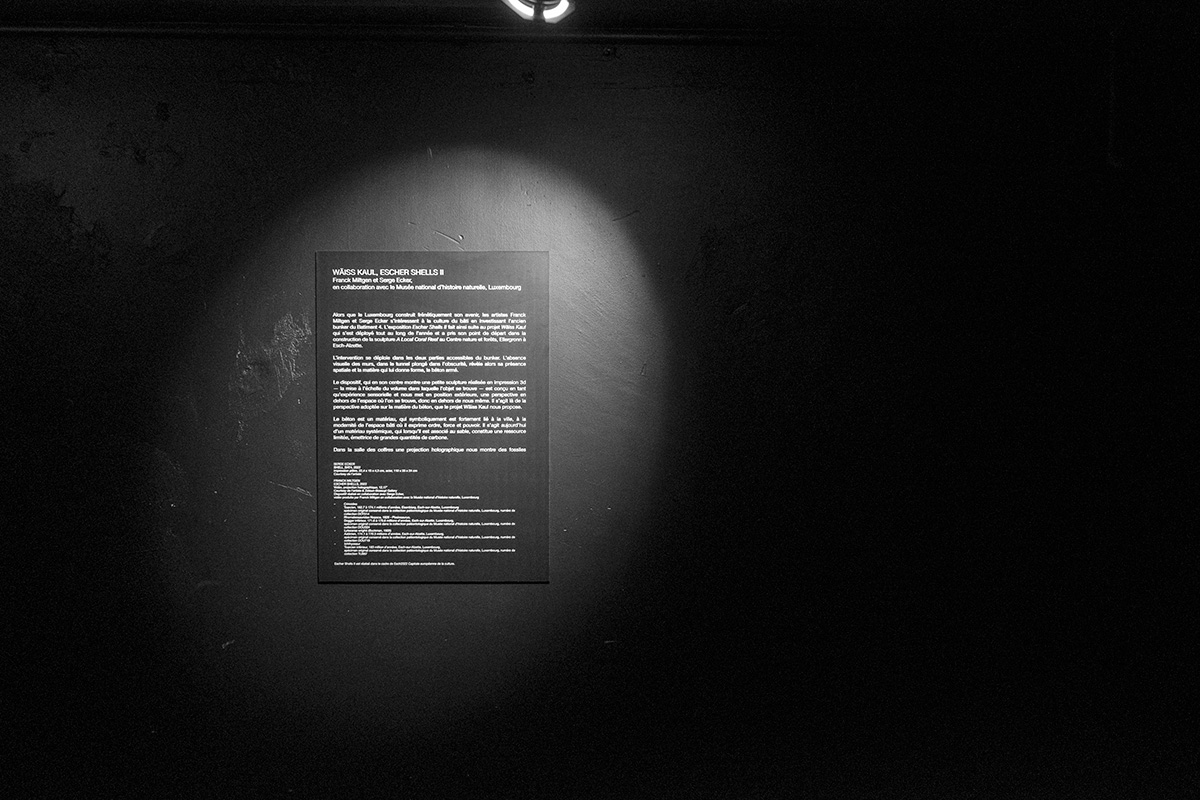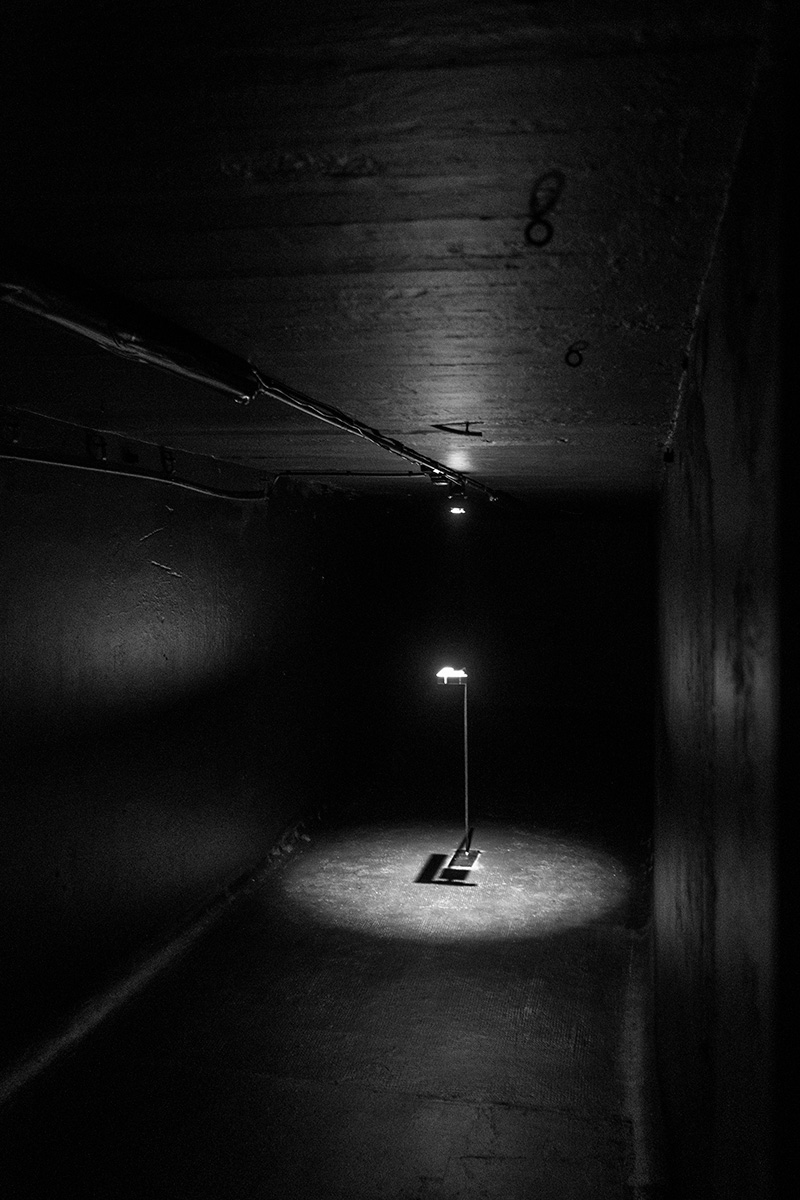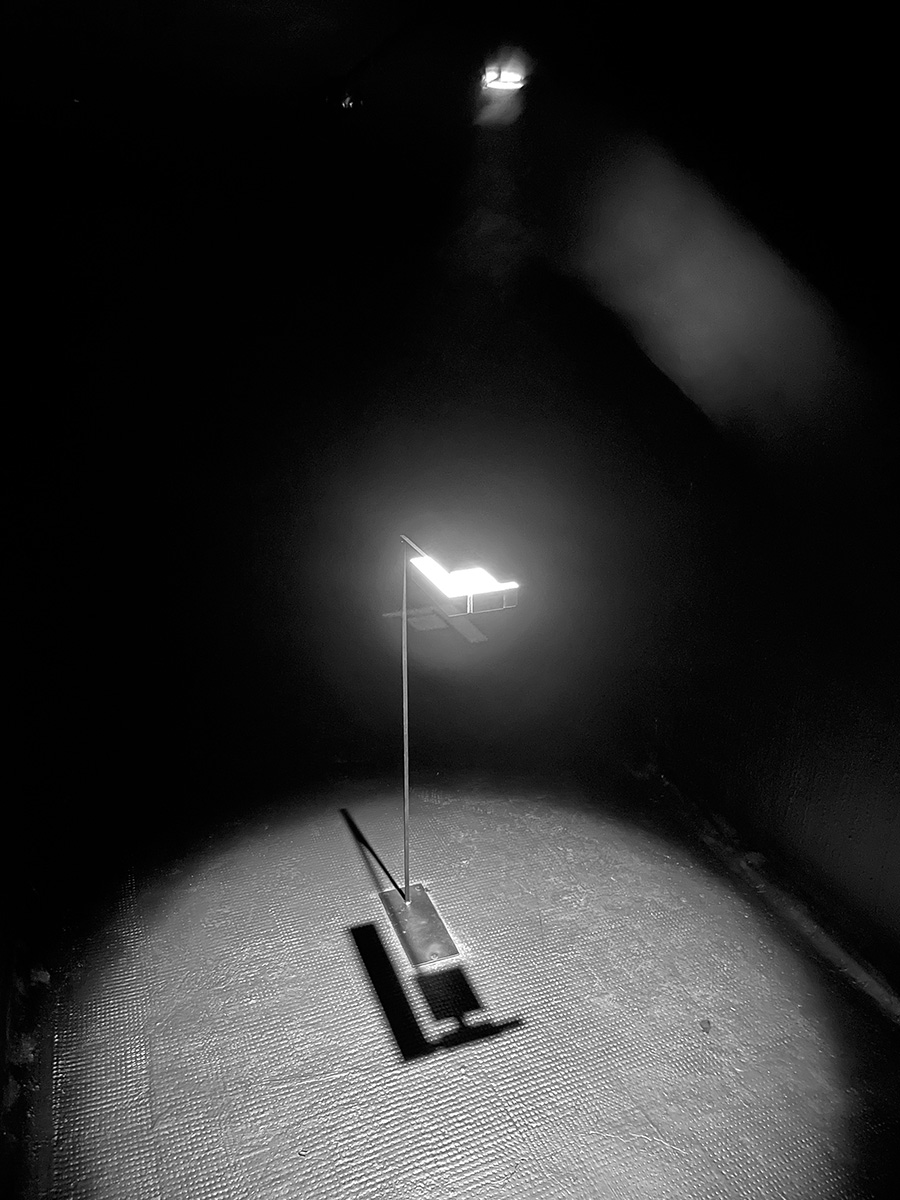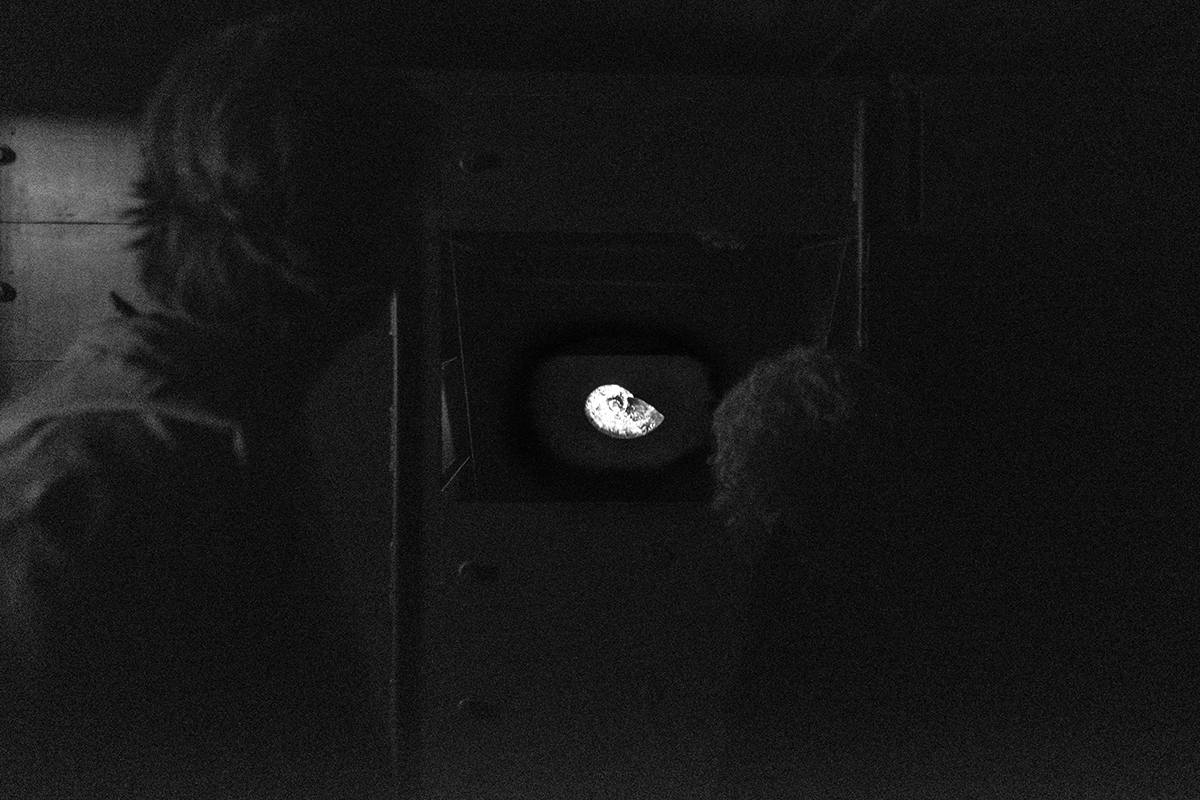 ---
FRANCK MILTGEN ESCHER SHELLS,
Vidéo, holographic projection, 12,17' Courtesy the artiste & Zidoun-Bossuyt Gallery
Device made in collaboration with Serge Ecker, vidéo produced by Franck Miltgen in collaboration with
the Luxembourg National Museum of Natural History
---
SHELL_BAT4, 2022 plaster 3D print, 22,4 x 15 x 4,3 cm, steel, 110 x 35 x 24 cm Courtesy the artiste
---
FRANCK MILTGEN ESCHER SHELLS,
2022 Vidéo, projection holographique, 12,17' Courtesy de l'artiste & Zidoun-Bossuyt Gallery Dispositif réalisé en collaboration avec Serge Ecker, vidéo produite par Franck Miltgen en collaboration avec le Musée national d'histoire naturelle, Luxembourg
---
SHELL_BAT4, 2022 impression plâtre, 22,4 x 15 x 4,3 cm, acier, 110 x 35 x 24 cm Courtesy de l'artiste
---
DOT514: CRINOIDEA TOARCIEN
182.7 à 174.1 millions d'années, Eisenbierg, Esch-sur-Alzette, Luxembourg spécimen original conservé dans la collection paléontologique du Musée national d'histoire naturelle, Luxembourg
---
DOU324 : RHOMALEOSAURIDAE NOPSCA,
1928 - Plesiosaurus, Dogger inférieur, 171.6 à 175.6 millions d'années, Esch-sur-Alzette, Luxembourg, spécimen original conservé dans la collection paléontologique du Musée national d'histoire naturelle, Luxembourg
---
DOU719 : LYTOCERAS WRIGHTI
(Buckman, 1905) Aalénien, 174.1 à 170.3 millions d'années, Esch-sur-Alzette, Luxembourg, spécimen original conservé dans la collection paléontologique du Musée national d'histoire naturelle, Luxembourg
TU867 : ICHTHYOSAUR TOARCIEN INFÉRIEUR,
183 million d'années, Esch-sur-Alzette, Luxembourg, spécimen original conservé dans la collection paléontologique du Musée national d'histoire naturelle
Bâtiment 4 - Tiers lieu culturel
66 Rue de Luxembourg
L-4149 Esch-sur-Alzette
---
---